Emergency Dental Care in Garland Texas
If you are not experiencing oral pain but still have a dental issue such as a cracked tooth, broken dentures or a misplaced filling, please do not hesitate to schedule your appointment so our experienced dental team can evaluate your situation.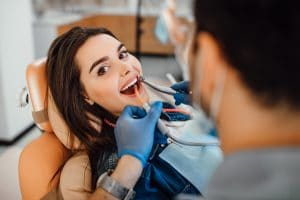 What to Do in a Dental Emergency
Our dental team is here to help when an emergency happens! Dental emergencies can cause a lot of pain and discomfort so we understand the urgency to get you seen as quickly as possible. When you encounter a dental emergency, schedule an appointment with North Garland Dental & Orthodontics immediately.
Do I need emergency dentistry?
Toothache – Did you brush, rinse and floss and it still hurts.
Broken Bracket to Wire
Tooth Knocked Out
Gum/Tongue/Cheek Injuries – If bleeding will not stop.
Broken/Loose Braces – Call your orthodontist immediately.
Chipped/Broken Teeth – If the chip is significant or your tooth is cracked or your tooth is in pieces.
Lost Filling/Crown
Tooth Loose
Abscess
How to Avoid Dental Emergencies
Accidents are unplanned, and therefore hard to prepare for. The best option for staying in front of a dental emergency is to be preventative. Schedule regular exams every six months and continue your regimen of good oral hygiene. Brush at least twice a day, floss once per day, and avoid brittle foods like hard candy that may do damage to your teeth!
WHAT OUR DENTAL PATIENTS ARE SAYING
Jonathan Alexander
July 8, 2022.
Great work and very professional. Definitely would recommend!! Also friendly!!
Martha Arce
July 2, 2022.
Staff is very friendly , Dr. Kuipers is very professional, I've have a couple of dental emergencies and they took really good care of me.
Jade Walters
June 28, 2022.
I have been coming here for a while and I really love the atmosphere there. ALL the workers are so nice and the Dr. does a great job caring for my teeth. I went to a lot of dentist that left me feeling like I was robbed but I never get that feeling here!