Experienced Dental Implant Experts in Garland Texas
Dental implants are often used to retain artificial teeth, facial prosthetics or to act as anchor points for orthodontics. This procedure is a great way to correct a missing tooth. It can be for cosmetic reasons or because it affects your speech or chewing. When you have a missing tooth it can also create bone loss around the area of the missing tooth.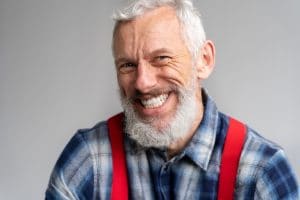 Missing Teeth
If you lose your tooth by accident or disease there is a way to restore your smile. Dental implants are choice preferred by many people to eliminate the hassle of dentures, partial dentures and sometimes a choice for people that do not want to have to remove partial structure for a bridge. You can either have a single implant or several implants and also have implants put in to support a full set of dentures.
A natural tooth has two parts:
Crown – The visible part that is covered with white enamel and the root.
Root – Supports the crown and extends to the jawbone.
Dental Implants
Dental implant is a procedure using prosthetic replacement for a missing tooth. The implant is a post made of titanium that is attached to the jawbone as an anchor for a replacement tooth. Titanium has the unique property of fusing directly to the jawbone. This biological process is called osseointegration and creates firm support for the new man-made teeth without causing a foreign body reaction.
Different Forms of Implants
A single implant is a stand-alone treatment for an individual tooth. You do not have to treat the tooth next to it.
A fixed implant that supports a bridge is a multiple tooth dental prosthesis.
The bridge will usually connect to more than one implant and may also connect to teeth as anchor points.
A removable implant is what supports dentures. This is a type of dental prosthetic that is not permanently fixed. You can remove the dentures by disconnecting it from the implant abutments.
Dental implants can last a lifetime with good care.
Dental Implant – Your Questions Answered
What is a dental implant?
A dental implant (also known as an endosseous implant or fixture) is a surgical procedure that places a titanium screw to the jawbone to create a permanent new root for missing teeth. This interface can support a crown, fixed denture or bridge. This procedure allows for a new tooth to be placed for a natural permanent solution.
How are dental implants different than dentures?
Dentures are not fixed they are removable and take a lot of care to maintain. They are bulky and cover the pallet. Dental implants are fixed and a permanent replacement for missing teeth. They are natural looking and are cared for like natural teeth.
What are the benefits of dental implants?
Dental implants are the most natural looking solution for missing teeth. They look, feel and are maintained like natural teeth.
Who can place a dental implant?
Dr. Kuipers or a periodontist may be able to perform this procedure. If they are not able to they will recommend you to an implantologist, cosmetic dentist or another professional that can perform dental implants.
How much do implants cost?
The price of dental implants varies based on case per case. Depending on the number of implants and amount of insurance coverage. You can schedule a consultation with your doctor to see what your case will cost you.
Do dental implants hurt?
No. You will be given local anesthetics before the surgery this will ensure that the procedure is pain free. If you have problems with anxiety you can discuss sedation options with Dr. Kuipers.
How long do implants last?
The great thing about dental implants is they can last a lifetime. Following the best practices, techniques, materials, and care these implants can be long lasting.
Schedule an appointment today by filling out our Contact form, or by calling our office at (972) 530-8800


WHAT OUR DENTAL PATIENTS ARE SAYING
Jonathan Alexander
July 8, 2022.
Great work and very professional. Definitely would recommend!! Also friendly!!
Martha Arce
July 2, 2022.
Staff is very friendly , Dr. Kuipers is very professional, I've have a couple of dental emergencies and they took really good care of me.
Jade Walters
June 28, 2022.
I have been coming here for a while and I really love the atmosphere there. ALL the workers are so nice and the Dr. does a great job caring for my teeth. I went to a lot of dentist that left me feeling like I was robbed but I never get that feeling here!